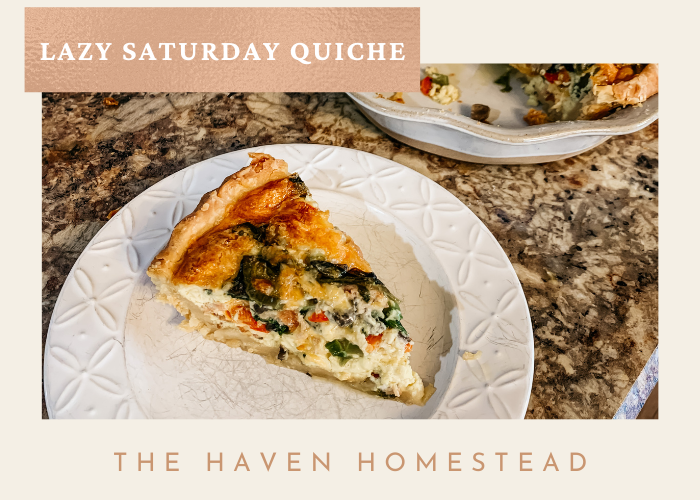 Over here at The Haven Homestead, we like our Saturdays slow. Well as slow as it can be when Mama Ruby (the milk cow) needs to be milked first. Add on that it felt like -25° this morning and it was the perfect time to trade milking chores with #mybeardedbestie. As cold as it was, I think I won this trade deal.
This Quiche recipe is a TOTAL hit with my fam and the ingredients can be switched out to reflect your family's fave add-ins. Get creative! And the buttermilk pie crust is one of the best I have found.
Quiche
4 green onion thinly sliced
⅓ cup chopped green bell pepper
⅓ cup chopped red bell pepper
2 Tbsp butter
4 oz cooked bacon chopped and divided
1 ½ cup shredded colby jack or cheddar cheese divided
1.5 cups of Spinach lightly chopped
1 cup heavy cream
6 large eggs
1/2 tsp of sea salt
1/2 tsp garlic powder
½ tsp black pepper
½ tsp onion powder
¼ tsp ground mustard
Preheat the oven to 375°F. Prick the bottom of a frozen pie shell using a fork. Bake for 5 minutes. Set aside.
In a small skillet melt the butter. Cook the sliced green onion, green pepper, red pepper, and spinach until softened around 2-3 minutes.
Layer ½ of the bacon and ½ of the shredded cheese on the bottom of the baked pie shell.
Whisk together the heavy cream, eggs, and seasonings until fully combined. Add the cooked vegetables to the custard.
Pour ½ over the first layer of bacon and cheese then repeat bacon, cheese, and custard.
Place onto a baking sheet and place into the oven. Bake for 10 minutes. Lower the oven temperature to 350°F and continue to cook for an additional 40-50 minutes. Rest on a cooling rack for at least 30 minutes before serving.
Notes:
You can substitute the bacon for any meat of your choice or completely omit it. Ham, Sausage, Polish Sausage are great substitutions.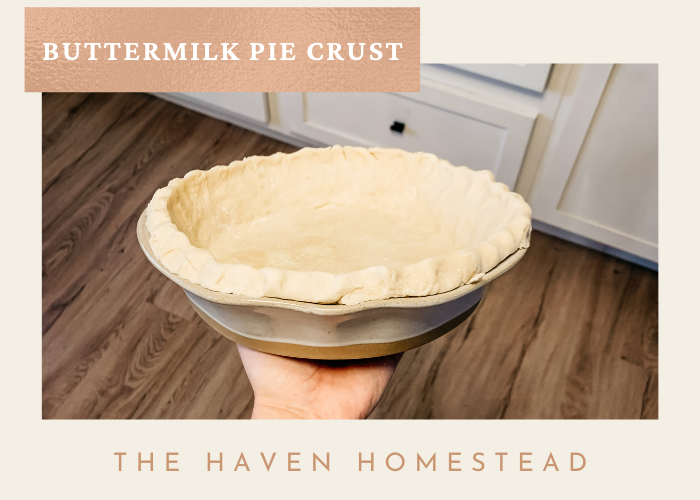 Ingredients:
2 Cups of Unbleached Flour
1 Tablespoon of Sugar
1 teaspoon of salt
4 Tablespoons of Cold Butter
1/2 Cup of Cold Buttermilk
Instructions:
Mix the dry ingredients and then cut in the butter with a pastry blender, forks, or your hands, until it is in crumbles. Please note if you use your hands, it will heat up the butter quicker, I use the pastry blender to avoid this. Add the buttermilk and form it into a ball. Cover in plastic and chill in the refrigerator for 1 hour. After it is chilled, lightly flour your surface and roll out. Add to your 9" Deep Pie Dish. Form the edges into a pretty pattern
(learn how-to here)
and voila!
I would love to hear if you are adding this to your must-make list or if you try it! Drop a comment below